HOME
Overview
References and links: The greatest source of folding information is origami, the Japanese art of paper folding. Books on origami designs are available at libraries, craft stores, book stores, Asian specialty stores and organizations dedicated to origami interests.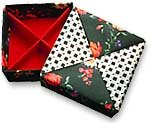 Process: It's quicker than quilting, more forgiving than paper, and durable. If you make a mistake, just iron and refold. All you need is fabric stiffener, a plastic card for a spreader, a screen and an iron. The fabric stiffener can be purchased at most craft or fabric outlets. The use of scrap fabrics, makes this a quilter's dream! Some origami only require 6 square inches of fabric.

Technique and embellishments: After stiffening you can cut, fold, laminate, write on, stamp, mail, stencil, embroidery, bead, paint and handle as you would paper or fabric. This approach to origami offers a unique opportunity for needlework embellishments. Beading, embroidery, tassels, and the addition of found objects can transform boxes and ornaments into personal statements. Painting, stencils, and stamping also leave their mark of individuality. Laminating provides a dual contrasting colors and patterns to materials. You can even apply gold leaf. Wonderful machine embroidery designs will turn a box into artwork.

Uses: Fabric Origami makes the perfect personal gift. They make lovely containers for rice or seed at weddings. Decorate your Christmas packages with something besides a bow. This year you can have an exciting ornament to exchange with others. Here is that inexpensive project you need for your class or group organization. You'll always have a gift for an office friend or a thank you gesture.